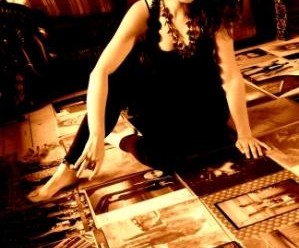 Clara Rose… songstress of rockin' blues, saviour of rootsy folk and with a voice that can make the hairs stand on the back of your neck… has been writing and performing her original music for 10 years.
With acoustic guitar in hand Clara has shared stages with Celtic legends such as: The Horslips, Henry McCullough, The Waterboys, Eleanor McEvoy, John Spillane, Jack L and more recently has been in the studio with blues legend; Don Baker. She is a mesmerising performer whose voice "soars and swoops with the ease of an opera star running through her scales" (Eamon Carr – Dubliner Magazine).
Clara holds a Bachelor of Music from N.U.I Maynooth and also spent 2 years in the Irish World Academy of Music & Dance while gaining a Music Therapy Masters from The University of Limerick. She also spends half an hour each day polishing her All Ireland Medal for Sean-Nós singing!
Her acclaimed debut album "A Portfolio" features 12 tracks (10 original). The album saw her embark on a nationwide tour with her band as well as achieve national and local radio airplay, TV appearances and critical acclaim. They have graced venues such as:
Whelans (Dublin)
JJ Smyths (Dublin)
The Cobblestone (Dublin)
Bewleys Café Theatre (Dublin)
McKennas Brewery (Monaghan)
Auntie Annies (Belfast)
McHughs (Drogheda)
and the intimate Chapter One Café Sessions (Cavan).
Clara Rose is a featured artist on the 2013 album release from Irish Blues Harmonica legend Don Baker, "My Songs, My Friends". Clara Rose features alongside Sinead O' Connor, Finbar Furey, Mick Pyro, Liam O' Maonlai, Brian Kennedy and Paddy Casey among others.
2014 will be an exciting one for Clara Rose with a new audio-visual release of new material set for the Spring and an E.U tour in March.
Her album is available from live shows, Tower Records (Wicklow Street, Dublin) and from the link below for purchase/download: