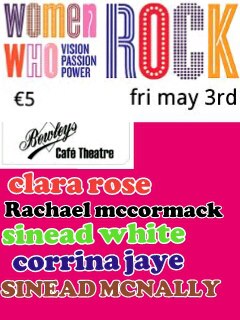 Five Irish "Women Who Rock" take to the stage in the iconic & intimate Bewleys Cafe Theatre for a special show on Friday 3rd May.
Rachael McCormack
Sinead McNally
Corrina Jaye
Sinead White
Clara Rose
This is going to be one hell of a show folks & is not to be missed, the perfect start to your Bank Holiday Weekend!
——————————————————————————————
Rachael McCormack (www.breakingtunes.com/rachaelmccormack)
A powerhouse singer songwriter from North Dublin. Her voice has more honesty than the right hand on the bible, she plays her guitar every time like it's the last time & her gift for songwriting makes her a true talent.
Sinead McNally (www.soundcloud.com/sineadmcnally)
A singer/songwriter and pianist from Dundalk. She won 'Best Female' at the Music Review Unsigned Awards in December. Chris De Burgh has endorsed Sinead as "talented writer" and music journalist Jackie Hayden wrote: "McNally's vocal style owes a little to Sinead O'Connor and Dolores O'Riordain and her fine piano fills are reminiscent of Bruce Hornsby.."
Corrina Jaye (www.breakingtunes.com/corrinajaye)
Indie-folk pop infused with just a touch of blues Corrina as been making waves since the release of her debut single "Dark Room".
Sinead White (www.soundcloud.com/sinead-white-1)
Kildare based Songstress Sinéad White with a voice as pure as snow…her vocal tones and piano prowess reflect Regina Spektor and The Cure… and her expressive songs show real depth and passion in between the lines.
Clara Rose (www.clararosemusic.com)
With a sensuous, soulful voice and carefully crafted songs… These elements combine to create each one of her unforgettable live performances. Her critically acclaimed debut album, "A Portfolio" brought a mix of ballsy blues & rootsy folk to the scene and is currently writing material for her awaited follow up album!
——————————————————————————————
So get into Bewleys early on Friday 3rd May & let these Women Rock You!
See you there folks x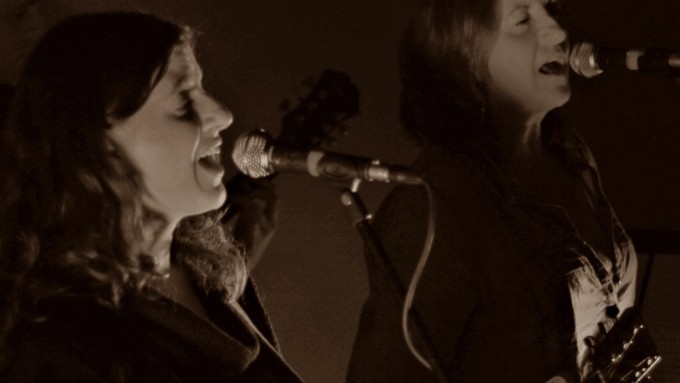 Clara Rose and Mamma Rose will be onstage on Saturday 25th of August in Marlay Park, performing their unique brand of backing vocals as part of The Don Baker Band, supporting Van Morrison and Tom Jones