2020 see's Clara Rose embarking on a live album recording project with her band, The Clara Rose Band. The recording will take place over series of shows in different types of venues to capture different vibes, sounds and music…
The first of these is the gorgeous Arthur's Jazz & Blues Club on Thomas St., Dublin 1. This is on Friday 24th January. Tickets are €10 and can be bought on the door. If people come along they will be part of the live recording and experience the live album set played by:
Clara Rose – vocals, guitar
Elizabeth Monahan – vocals
Darragh Slacke – Electric guitar
Tony McManus – Bass
Gavin Taylor – Drums
The second of these shows is in The Garage Theatre, Monaghan on the 7th March. This is a special kind of night which deserves a post of it's own! Scroll through the 'news' on this website to find out more. If you wish to buy tickets click here.
Related show
Here is my New Song ; 'Love Sweet Love'  in 'Kammgarn', Schaffhausen, Switzerland. I performed this at the closing show of my recent 16 date tour "Celtic Spring Caravan" (22nd March 2014).
This track will be performed at my upcoming gigs in Chapter One, Cafe Sessions – Cavan town on 22nd May and at the E.P Launch Night in The Grand Social on 29th May,
I hope you enjoy the song! If you do, feel free to share it online with your friends and whoever else will listen!
All rights reserved – Clara Rose 2014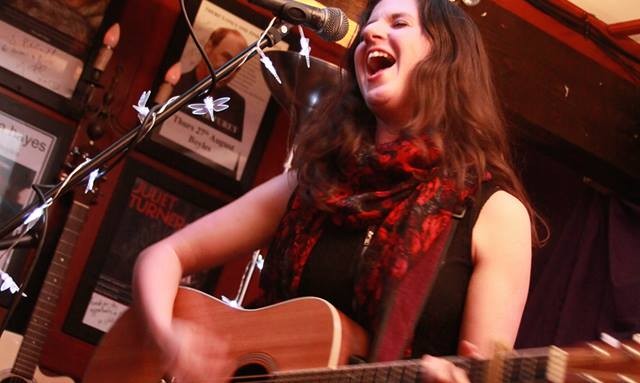 Fresh from her European tour Clara Rose is set to go around the country for a wee tour in April/May 2014. She is mixing things up a bit – some full band gigs, acoustic solo gigs, 2 piece, 3 piece, some with "Mama Liz" and some guest spots with The Don Baker Band. You never know what might happen!
These gigs will all culminate with the BIG launch party in The Grand Social on 29th May – Clara Rose will perform with her band as part of The Silverwood Label Launch Night – E.P's will be on sale for the first time on this night!
Go to the "GIGS" page for a full list of upcoming gigs. Rightey Ho… talk soon x
Related show