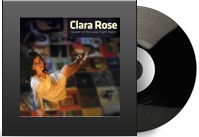 September 2014 has and is a great month for Clara Rose inc…
I kicked things off with 2 stomper gigs at the Harvest Time Blues in Monaghan. This was with the full band and we had a rockin' weekend rolling around Monaghan, hearing some amazing artists and rocking out at our own gigs. What a brilliant festival and melting pot of all kinds of blues and all in the town of Monaghan! Long may it continue 🙂
My first appearance in Dublin's famous venue The Olympia is coming up this Sunday 21st September. I'll be performing with The Don Baker Band at a fundraiser for Gaza through Amnesty International. On the 'Gig for Gaza' bill are a host of other great acts; Paul Bray, The Stunning, Francis Black, Paddy Casey and Big September. Tickets are available through Ticketmaster.
I'm flying to Bella Italia next weekend to perform in Tricesimo (1 hour north of Venice) at the Madame Guitar festival. I'm really looking forward to this festival and soaking up the last of the autumn sun (and red wine!!) in Italy.
October is going to be good too with more performances lined up with The Don Baker Band at the renowned Guinness Cork Jazz Festival!
So it's all go for Clara Rose… and I couldn't have it any other way!