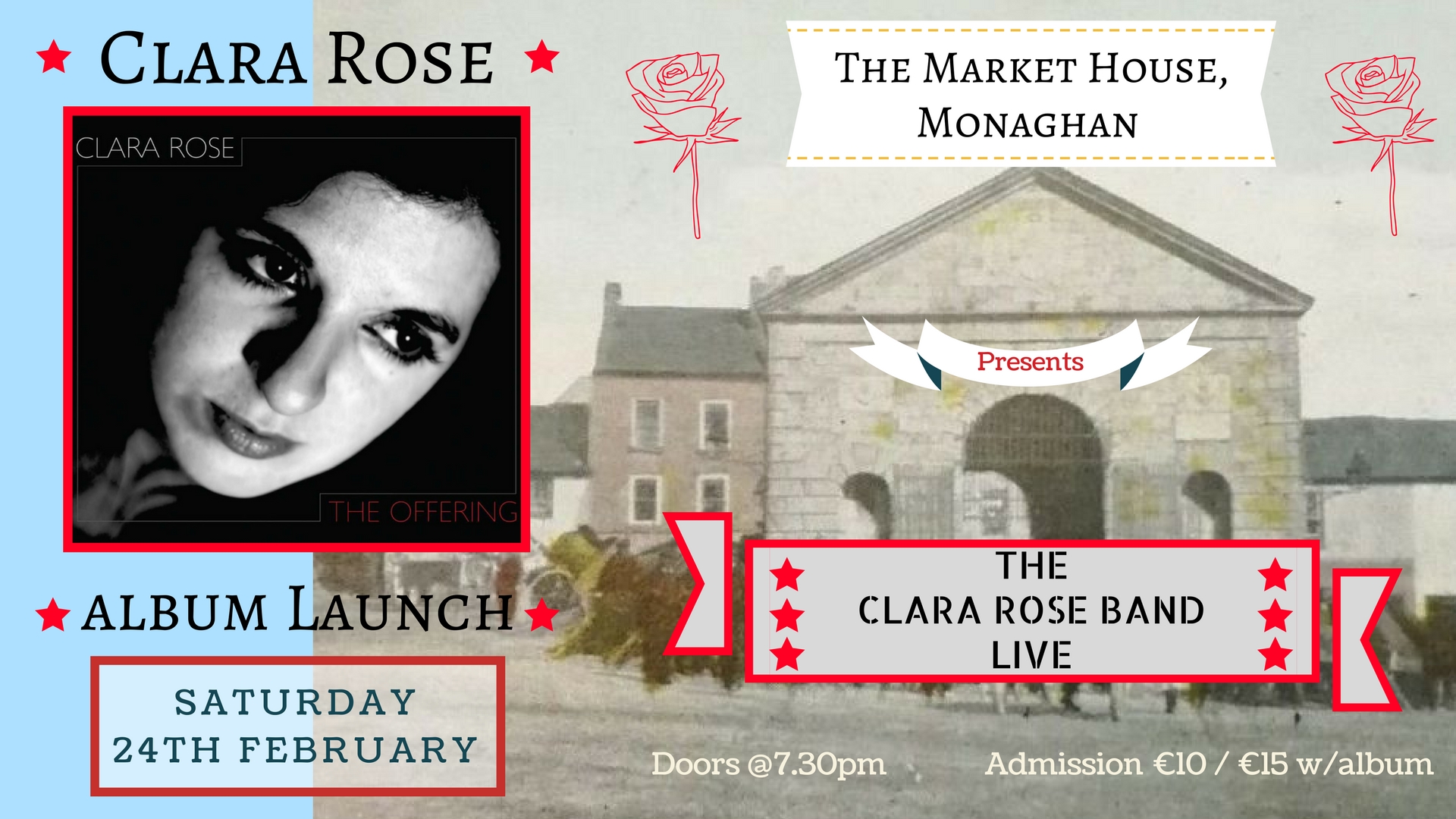 Clara Rose had her Monaghan Album Launch in Monaghan's beautiful heritage arts centre, 'The Market House' on Saturday 24th February. The sold out show was a great night with performances from The Clara Rose Band and special guest appearance from, 'The Monahan Family' (my wonderful parents Alan & Liz Monahan) fresh from their mini-tour of Northern Italy in January 2018!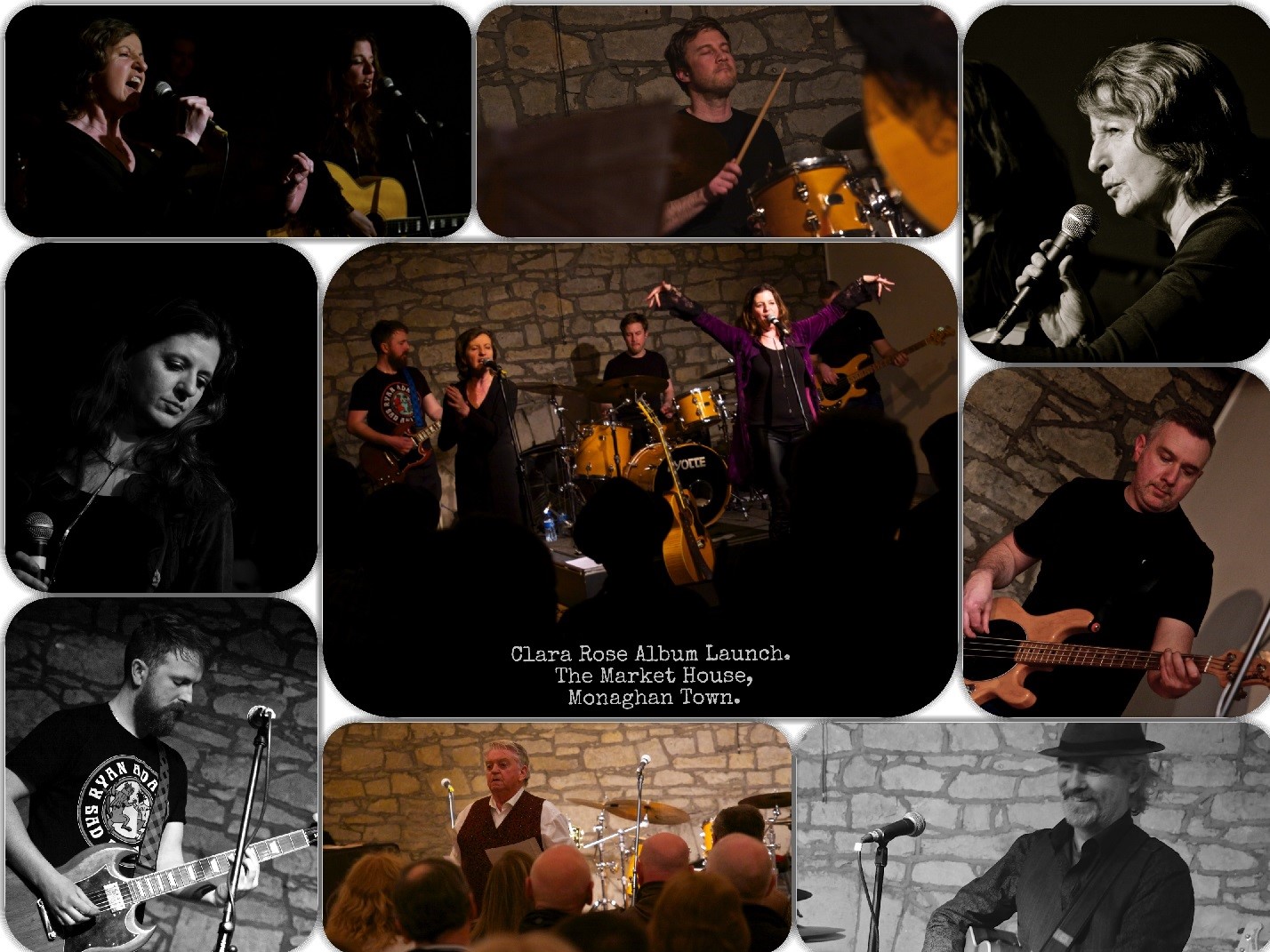 (TL: Liz & Clara, TM: Gavin Taylor, TR: Liz Monahan, ML: Clara Rose, M: The Clara Rose Band, MR: Tony McManus, BL: Sean Beatty, BM: M.C. Pat Deery, BR: Alan Monahan)
Audience members were treated to a full evening's entertainment by The Clara Rose Band:
Clara Rose (guitar, vocals)
Sean Beatty (guitar)
Tony McManus (bass)
Gavin Taylor (drums)
And special guests:
Alan Monahan (vocals, guitar)
Elizabeth Monahan (vocals and general banter!)
We had a gorgeous wine & drinks reception in the surrounds of The Market House. Sound on the night was by the legendary Ronnie O' Flynn and the concert was M.C's by Clara's uncle Pat Deery.
'The Offering' is now officially in the ether. It is available for purchase in the 'Music Store' on this website, for download on  CD Baby, iTunes   and streaming on    Spotify.
Thanks SO much to you all for your continued support. It means a lot to me as I love to sing!
Lots of love,
Clara Rose x
(Photography by Alan Monahan & Photo of Alan by Mark Sherlock)
I recently performed to a packed, steamy audience in the coolest venue in Dublin in March, 'Abner Browns Barbershop' – Rathmines. There's really nothing like it when you perform to an audience like this – they listen, they holler and they LOVE the music!
I also had the pleasure of performing with my great friend and amazing vocalist Paula Higgins for the first time. The magic was captured in this gorgeous video by Razor Cuts Productions to my new song, 'Tightrope Walkers'. https://www.youtube.com/watch?v=JL3Z5ftgI4Y
I hope you like the new song – looking forward to recording it later this year!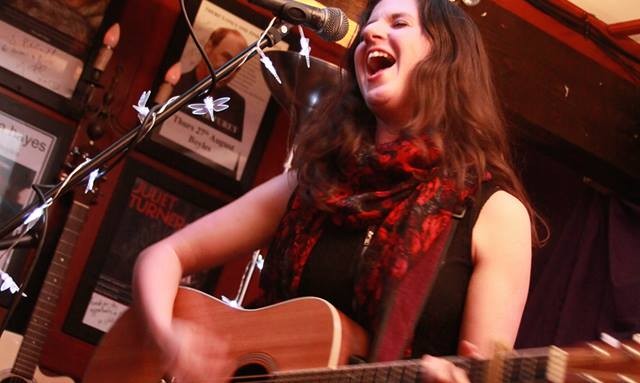 Fresh from her European tour Clara Rose is set to go around the country for a wee tour in April/May 2014. She is mixing things up a bit – some full band gigs, acoustic solo gigs, 2 piece, 3 piece, some with "Mama Liz" and some guest spots with The Don Baker Band. You never know what might happen!
These gigs will all culminate with the BIG launch party in The Grand Social on 29th May – Clara Rose will perform with her band as part of The Silverwood Label Launch Night – E.P's will be on sale for the first time on this night!
Go to the "GIGS" page for a full list of upcoming gigs. Rightey Ho… talk soon x
Related show