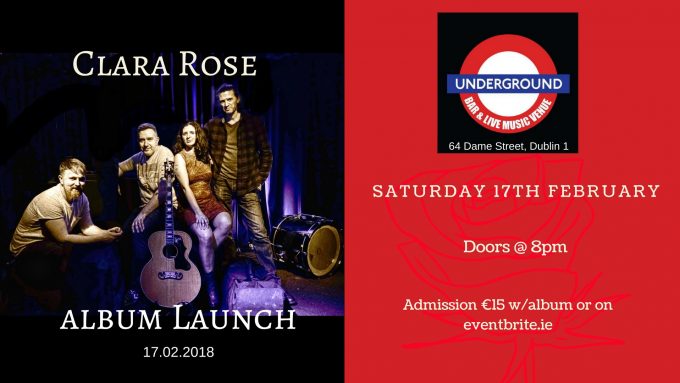 Click HERE for tickets to Clara Rose Album Launch @ The Underground, Dublin 
Clara Rose is set to release her second studio album, 'The Offering' on 17th February 2018. It is a collection of 10 songs that bring the listener on a journey through folk rock, blues, funk, soul and contemporary folk. There are 9 original tracks penned by Clara Rose and Big Momma Thornton's 'Ball and Chain' get's the Clara Rose treatment as the penultimate track.
The album was produced and recorded by Gavin Glass in Orphan Recordings over 7 days of peace, joy and sweet music. It features stellar performances from The Clara Rose Band (Sean Beatty, Tony McManus & Michael Black) aided by the musical professor Gavin Glass and guest appearances from vocalists Elizabeth Monahan, Claire McLaughlin and Paula Higgins. We were lucky enough to attain the talents of legendary brass section Michael Buckley & Ronan Dooney who make three tracks gleam with soul and violinist Cathy McEvoy adding to the rootsy folk elements of the work.
Clara Rose has been writing and performing for over 10 years – her acclaimed debut 'A Portfolio' (2010) brought her onto the scene and she hasn't relented! Her live E.P 'Queen of the Late Night Radio' (2012) ignited a collaboration with harmonica player/song writer Don Baker and she went on to appear on his album 'My Songs, My Friends' with a host of other Irish artists (including Brian Kennedy, Sinead 0' Connor and Eleanor McEvoy), this collaboration developed into a nationwide tour and release of their album 'Baker Rose' (2016).
Her 4th release to date, 'The Offering' album will be launched in two venues:
 Dublin: 'The Underground' (64 Dame Street) 17th February, 8pm.
 Monaghan: 'The Market House' (Market Street) 24th February. 7.30pm.
Opening Act in 'The Underground' will be Colm Skwirbat – you can can check him out opening for An Tua Nua CLICK HERE – Colm Skwirbat 'Too Much Alcohol'
Related show